As an essential part of any tech business, ETL Developers are responsible for building and managing the data storage systems that keep data organized and secure. But what exactly is an ETL Developer? What are their roles and responsibilities? And how can you find the right one for your business? Let's dive into these questions and explore the skills and qualifications necessary to hire the right ETL Developer.
What is an ETL Developer?
ETL stands for Extract, Transform and Load, and an ETL Developer is responsible for this entire process. They design a data storage system and move data from various sources to this data warehouse. This data storage system is crucial for business intelligence teams, as they design, build and manage data applications and the underlying infrastructure.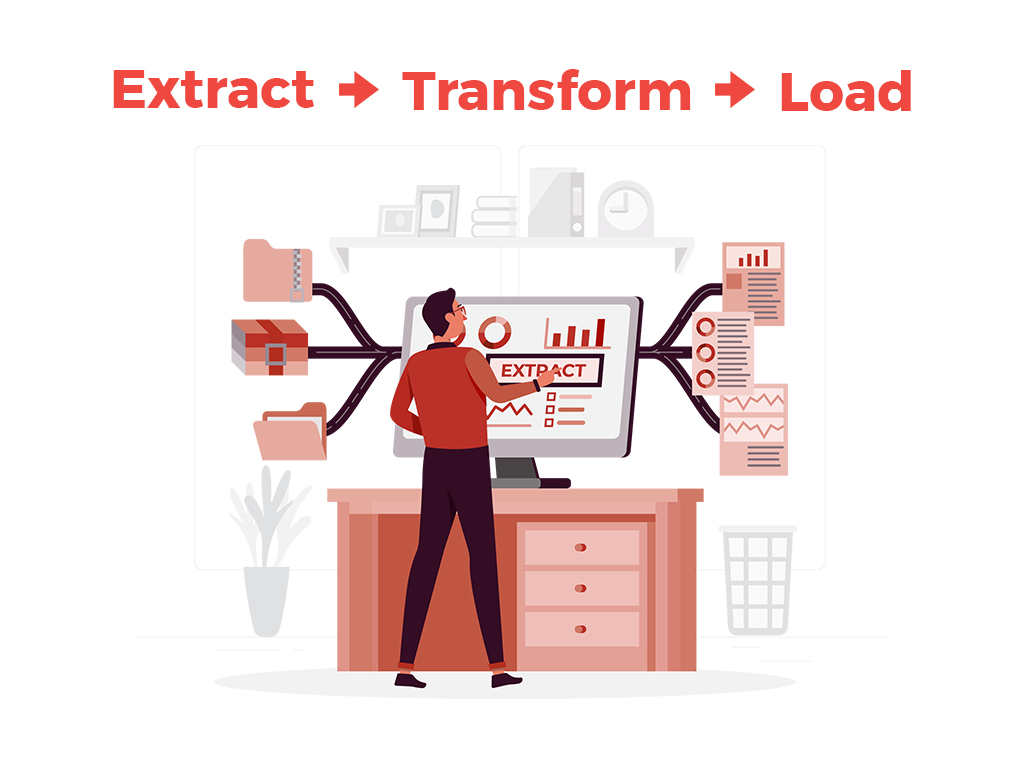 An ETL developer carries out some of the most crucial tasks in a business. That's why they are part of the business intelligence team.
Before we get into the specifics, let's know what ETL stands for.
1. Extract
This is the starting point of extracting data from source systems like SQL servers, spreadsheets, text files, etc. After extraction, the data enters the staging area where it can be validated before moving into the storage systems.
2. Transform
The extracted data is raw and needs to be filtered and mapped before it gets into the data warehouse. At this stage data goes through cleaning and standardization.
3. Load
This is the last stage. Here the standardized data is loaded into the data warehouse. This might sound like the easiest stage but is actually tough because a large volume of data needs to be loaded in a short period of time. Load verification is done before the process to ensure smooth loading.
What Does an ETL Developer Do?
An ETL Developer is responsible for designing and building data storage systems, extracting data from various sources, cleaning and standardizing data, loading it into the data warehouse and troubleshooting and testing the data. They must also have strong analytical skills in order to create the right solutions for data management.
What are the Roles and Responsibilities of an ETL Developer?
An ETL developer is an important part of your business as they manage and store sensitive data. Here's what you can expect an ETL developer to do.
Uses various data concepts to build a data warehouse that will be appropriate for internal teams and departments.
Creates data solutions and is responsible for cleaning, standardizing and managing large volumes of data.
Maintains high data quality standards.
Maps data in order to gauge the requirements and comes up with relevant data storage solutions.
Develops and automates complex apps that can extract, transform and load data efficiently.
You need to hire an ETL developer who goes above coding and data system building knowledge. They must also have crisp analytical skills in order to create the right solutions for data management.
ETL Skills and Qualifications
If you want to hire the best ETL developer, it is essential to look at some of their most important skills.
1. ETL Developer Software Knowledge
NoSQL Data experience
Dimensional Modeling knowledge
MDX, SSAS and OLAP knowledge and experience
SQL/PL server development knowledge and experience
.NET and Java experience
SSIS experience
Spark, Hive, Hbase, HDFS, Sqoop experience – Hadoop components
Erwin, Embarcadero and Toad Data Modeller experience – Modeling tools
When looking for an ETL developer, look for at least 2 years of experience; experience with ETL tools is mandatory. Besides software knowledge, educational background and personal attributes also play a huge role when hiring any employee for your business.
2. ETL Developer Educational Background
A Bachelor's degree in computer science or software engineering
Industry related knowledge. For example, if you're a bank, the ETL developer you hire must have knowledge of how financial institutions function in order to come up with the right data storage solutions.
ETL/BI training or certification is a big plus.
3. ETL Developer Personal Attributes
Experience working with businesses. This would mean that the ETL developer has experience in managing large volumes of data.
Flexibility to learn and unlearn. This would be necessary for new techniques to be implemented.
Capability of working in teams. This would make them more open to ideas.
Project management skills.
Problem-solving and crisis management skills.
Good communication skills. These would help with internal team coordination and makes work easier.
Detail-oriented mindset. Since ETL developers work on multiple and complex systems at the same time, they would need to be able to focus on each one properly.
Are ETL in Demand?
Short answer, yes. . ETL is an essential part of any organization's data management process, as it enables the transfer of data from multiple sources into a single, unified data warehouse. As such, companies of all sizes are investing in ETL technology to help them gain insights from their data. The demand for ETL professionals is expected to remain high in the future.
Where Can You Find and Hire ETL Developers for Your Business?
Now that you've read about how important an ETL developer is for your business, you need to find the one who fits your requirements. Remote ETL developers are a great option because you save a lot of money and time while allowing you to choose among the best global talent. There are multiple platforms that offer you resumes of ETL developers. Having said that, it's essential to understand that you can't just pick up a resume and determine the right choice for a position as crucial as this.
That's why it is essential that you go for a remote ETL developer recruitment specialist that is familiar with the necessary skills and knows which interview questions to ask when screening for the best ETL developer for your business. At DistantJob, we are experts who can find the best fit for you and can ensure that your data will not only be in safe hands but also taken care of efficiently. This leaves you the time to focus on other important aspects of your business. Hire ETL developers with DistantJob within two weeks and build your team with top-quality developers pre-vetted for a Silicon Valley bar. Reach out to us today online or visit us in our Montreal office.